Capoeira angola and Permaculture with Mestre Cobra Mansa
When:
17 February 2020 – 28 February 2020
all-day
2020-02-17T00:00:00+00:00
2020-02-29T00:00:00+00:00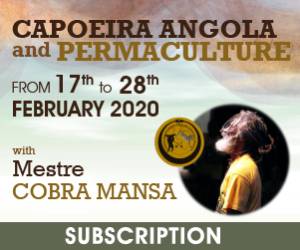 Mestre Cobra Mansa is one of the greatest living mestres of capoeira angola.
Born in Rio de Janeiro, he taught capoeira in the united States, where he created International Capoeira Angola Foundation before going back to Brazil. He create there a dedicated area for permaculture and capoeira angola, Kilombo Tenondé, in Bahia region. He welcomes there all year long volounteers and students for an immersion in a great agro-ecological place. Mestre Cobra Mansa comes to share with us his knowledge about permaculture and capoeira. Far from theory, Mestre Cobra Mansa delivers us an authentic knowledge, full of simplicity and humor.
Come to live for 12 days with Mestre Cobra Mansa in Senegal!
Treinel Do Manoel Kilombo, also capoeirist and permacultor, will also come from Brazil with Mestre Cobra Mansa for the event.
12 days of workshop : 645€  in a room – 620€ in a traditional house
Flight not included
The workshop includes:
Transport from Dakar to Aduna'm
Accomodation : rooms, breakfast, dinner and lunch, water.
Membership of the NGO Aduna'm
– Landing in Dakar Feb. 17th
– 2 nights in Toubab Dialaw, next from Dakar, in an Hotel.
– On Feb 19th, go to Sahel.
– 20 to 26 of February: workshop in Aduna'm with Mestre Cobra Mansa and Do.
– 27 of February: go back to Dakar and sleep in the Hotel Sobo Bade.
– 28 of February: land back.
You have to pay 200€ for booking. The rest has to be paid at least 1 month before the beginning of the stay.
To book your workshop, please fill the form and follow the indications.
Places are limited to 15.
Any questions:
Mail: aduna@hotmail.fr
Facebook: espace culturel et agricole aduna'm
Tel: (00221) 77 866 02 37 or (00221) 77 805 71 48
NB: No refund will be made 2 months before the workshop, from Dec. 17th.
Deposit to the account below
ESPACE ADUNA'M
IBAN : FR76 1131 5000 0108 0121 5078 903
BIC : C E P A F R P P 1 3 1